The Fantasy Budget is our annual competition that encourages undergraduate students to explore the Budget. Teams of up to four students compete and critically analyse key measures which impact individuals, Irish businesses, and foreign investment. Then, they must think like a Minister for Finance and propose their own measure to be introduced.
This year, the participating teams came from 8 third-level educational bodies, and they applied their academic knowledge with a creative, entrepreneurial flair, delivering thought-provoking analysis and measures. As a result, the judges had a difficult task to select a top three.
We're delighted to announce the winners of our Fantasy Budget 2022 are Trinity College Dublin's Anna Kelly, Aoife Mullan, Sadbh Kelly and Yasmin Friel! Closely followed DCU in 2nd place and UCD coming in 3rd. You can find out more about their submissions below.
On Wednesday 25 May, our President, Karen Frawley, and Education Director, Martina O'Brien, marked the students' great achievement with a virtual celebration with their supporting lecturers.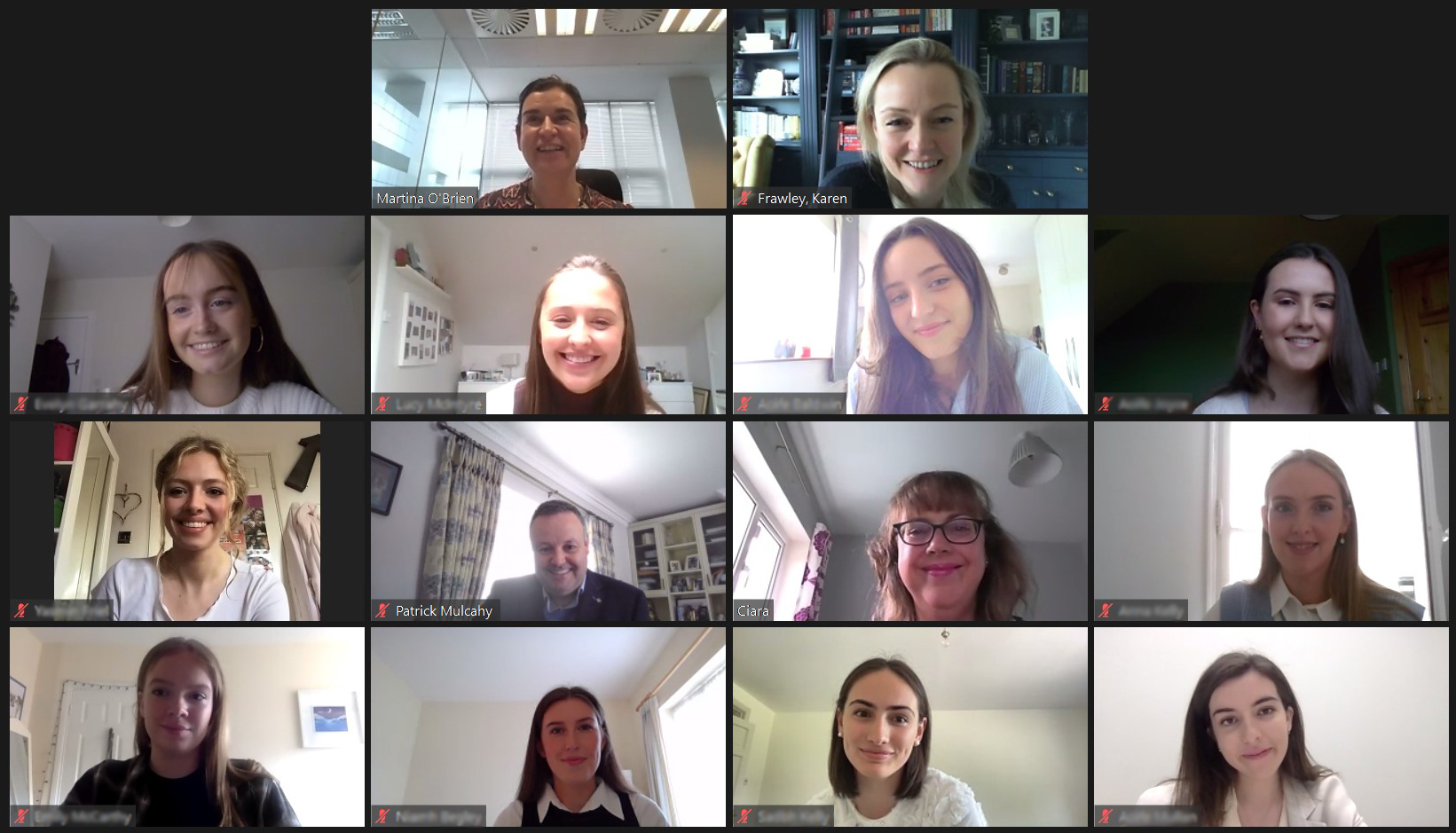 Trinity College Dublin – 1st Place
Our winning team from Trinity College Dublin, with the guidance of Ciara Deane, examined the remote working relief, the 32% relief on design, production and testing expenditure for digital gaming companies and impressively, they tackled the Interest Limitation Rule too. Their proposed measure focused on climate change (a common theme seen in this year's submissions), with the introduction of the Sustainable Innovator Tax Credit. It aims to encourage companies to develop innovative solutions to improve their environmental impact.
DCU – 2nd Place
Under the supervision of Patrick Mulcahy, our 2nd place team from DCU – Aoife Baldwin, Aoife Joyce, Evelyn Garrahy and Lucy McIntyre – also looked at the remote working and ILR measures, but they evaluated the Budget 2022 increase in carbon tax and commitment to increase it by €7.50 annually until 2030. They considered the carbon tax's impact on businesses and their strategies, so they can remain competitive. For the final part of their submission, this DCU team proposed for a shift in focus from upgrading Ireland's water infrastructure to keep up with demand, to changing the consumption patterns here. Their measure would reward households who change their ways with a tax credit that aligns with the Household Water Conservation Charge.
UCD – 3rd Place
UCD's Kate Madden, Ciara Coughlan, Emily McCarthy and Niamh Begley, reviewed the changes to the USC and its impact on individuals. After that, with the support of Ciara Deane, they analysed the important changes to Employee Investment Incentive (EII) scheme for domestic SMEs while also looking at the Digital Games Relief impact on FDI. If they were the Minister for Finance, they would widen the scope and introduce greater flexibility to the Accelerated Capital Allowance (ACA) for energy-efficient equipment, in an attempt to increase the uptake of the scheme.
Thank you to all participants! It is fantastic to see so many college students taking part and being interested in the Budget process. We look forward to Fantasy Budget 2023.