Fantasy Budget is our annual competition to get undergraduate students throughout Ireland exploring the Budget. We invite teams of up to four students to critically analyse key measures impacting individuals, Irish businesses, and foreign investment. They also must think like a Minister of Finance and propose a measure to be introduced.
This year with a global pandemic, the participating teams had to apply their academic knowledge to an unprecedented real-life situation. The creative, entrepreneurial flair was evident in the measures put forward.  As a result, the judging panel had a difficult time narrowing it down to the top 3.
We're delighted to announce the winners of our Fantasy Budget 2021 are UCD's Elaine Dunne, Katie Kilcoyne and Naomi Whyte! Closely followed by Limerick Institute of Technology in 2nd place and UCC coming in 3rd. You can find out more about their submissions below.
To mark this great achievement, our President, Sandra Clarke and Education Director, Martina O'Brien, joined the students and their lecturers for a virtual celebration. We managed to get a snapshot of all the teams together.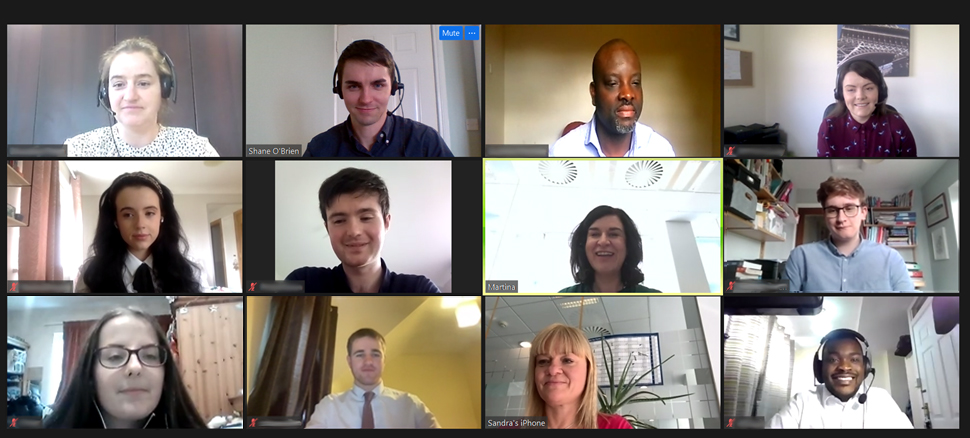 UCD – 1st Place
Our winning team from UCD, with the guidance of Emer Hunt, examined the increase in carbon tax, the introduction of credit schemes for businesses and the extension of the Knowledge Development Box. For their new measure, they proposed the introduction of a new model of funding for higher education. It centred on increased state funding with deferred payment of fees through income contingent loans.
"The Fantasy Budget was the perfect opportunity to allow us to analyse and consider the real-life implications of tax. The competition encourages participants to consider the relevance and importance of tax throughout various sectors of society. It sparked our interest in Ireland's economy and the prominent role that tax has to play. We would strongly encourage any student to partake – tax issues play a dominant role in all commercial activities. This competition equips you with great practical knowledge and analytical skills for the future," Elaine Dunne, Katie Kilcoyne and Naomi Whyte, UCD
Limerick Institute of Technology – 2nd Place
Under the supervision of Morna Canty, our 2nd place team from LIT, Ross Holian, Godwin Moneke and Sarah Farrell, evaluated the Budget 2021 changes to the social welfare system. Further, they looked at the VAT rate reduction for the tourism and hospitality sector, and the ongoing implementation of the Global Ireland initiative. As part of their Fantasy Budget submission, they proposed a Universal Basic Income with a view to establish tax equality.
"As a group we work well as classmates and have enjoyed working as a team guiding each other, sharing the workload. We learned a lot through engaging in tax research and are delighted to have achieved runner up in such a prestigious competition," Ross Holian, Godwin Moneke and Sarah Farrell, Limerick Institute of Technology
UCC – 3rd Place
UCC's Emer O'Keefe, Finnian Breen, Mwayi Clement Chabwera and Shane Allen, reviewed changes to tax reliefs and allowances impacting individuals. After that, with the support of Michelle Gleeson, they analysed CRSS and the merits of maintaining Ireland's corporation tax rate. If they were the Minister for Finance, they would introduce a tax credit scheme for the retail sector similar to the 'Stay and Spend' scheme for the tourism and hospitality sector.
"The Fantasy Budget Competition was a great experience. It provided us with a valuable learning experience to apply our knowledge of Irish current affairs through analysis of the budget, while representing UCC in a national competition. We enjoyed working as a team and using our creativity to think of new ideas. As students, it gave us the opportunity to analyse the greater details of Budget 2021 and to understand the impact these measures had on different groups in society." Emer O'Keefe, Finnian Breen, Mwayi Clement Chabwera and Shane Allen, UCC
Thanks to all who participated in Fantasy Budget, it's great to see so many college students interested in the Budget. We're already looking forward to Fantasy Budget 2022!