Seminar
Climate Change: Decarbonising the Economy and the Tax Impact
Tuesday 10 March 2020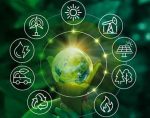 Speakers
Colm McCarthy, Economist and Columnist
Rodolfo Lacy, Director of Environment, OECD
Laura Heuston, Co-Founder, SustainabilityWorks
Muireann Lynch, Research Officer, ESRI
Mike Hayes, Global Head of Renewables, KPMG
Chaired by Shane Coleman, Presenter of Newstalk's Breakfast programme.
The defining fact of our time is that the planet is warming, and our climate is changing at an unprecedented rate. Tackling this overwhelming global challenge is among the most difficult tasks facing the incoming government.
All policy levers, including tax, will have to be deployed to achieve our climate targets. As we decarbonise our economy, there will be many challenges for businesses. But there will also be opportunities.
To learn more from our expert panel of speakers, join us at this complimentary event in the Royal College of Physicians on Tuesday, 10 March. Places are limited and will be allocated on a first come, first served basis.

Start date & time
10th March 2020 08:15
End date & time
10th March 2020 10:30
CPD Hours:
2.00
Venue:
Royal College of Physicians
Show on map